Fair Blue is nested in a secluded area of North Wilmington – a true hidden gem offering one of the best maintained properties of all the area's neighborhood pools. Located at the end of Fairblue Lane, just off of Grubb Road we're convenient to Brandywood, Chalfonte and Foulk Woods.
Our club offers an up to date pool house, clean locker rooms and showers and a snack shack. Sitting on six acres, the entire pool and recreation area is fenced in. Our main pool has six lanes plus a diving well. We offer a playground with swings, sand volleyball court and a picnic area with complimentary gas grills.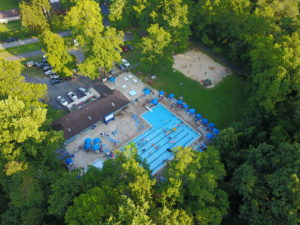 Learn more about our membership policies, information on current dues and how to apply for membership.
Labor Day: Pool is open till 5:30pm
Doggie Dip: 6pm
While Brandywine School District is in session:
8/28: 12-8pm
8/29-8/31: 4-8pm
9/1: 2-9pm
5/27, 5/28 & 5/30 – 6/11:
Weekdays: 4pm-8pm (Friday until 9pm)
Weekends (Sat/Sun): 11am-9pm (baby pool opens at 10am)
Regular Summer Hours 6/12-8/27 & 9/2-9/3:
Baby pool: 10am-9pm
Lap swimming: 10am*-11am (excludes holidays)
Main pool: 11am*-9pm weekdays 11am-9pm Sat/Sun
[* beginning 8/4/23]
Join the Fair Blue Flying Fish swim team! This is an awesome way to make new friends and get your kids involved in the club!
Afternoon practices: May 30-June 16
Diving well & baby pool will be open 4-8pm
5:00pm-6:00pm – younger swimmers (6 & under, 8 & under, 10 & under)
6:00pm-7:00pm – older swimmers (12 & under, 14 & under, 18 & under)
HOME Swim Meets: The pool will CLOSE to all members at 4 pm the day of a HOME meet. All members are welcome to swim at the pool we are swimming against when we have a home meet.
Tuesday June 20, 2023 (Silverside Swim Club)
Tuesday June 27, 2023 (Windybush Swim Club)
Thursday July 13 (Shellcrest Swim Club)
Fair Blue offers several special events during the summer – including holiday parties, movie nights, and food trucks. Click the link above to see our calendar of events.